Lights, Camera, Bakelite!
The Office of Student Affairs Hosts a Fun and Informative Movie Night
NYU Tandon School of Engineering
December 5, 2018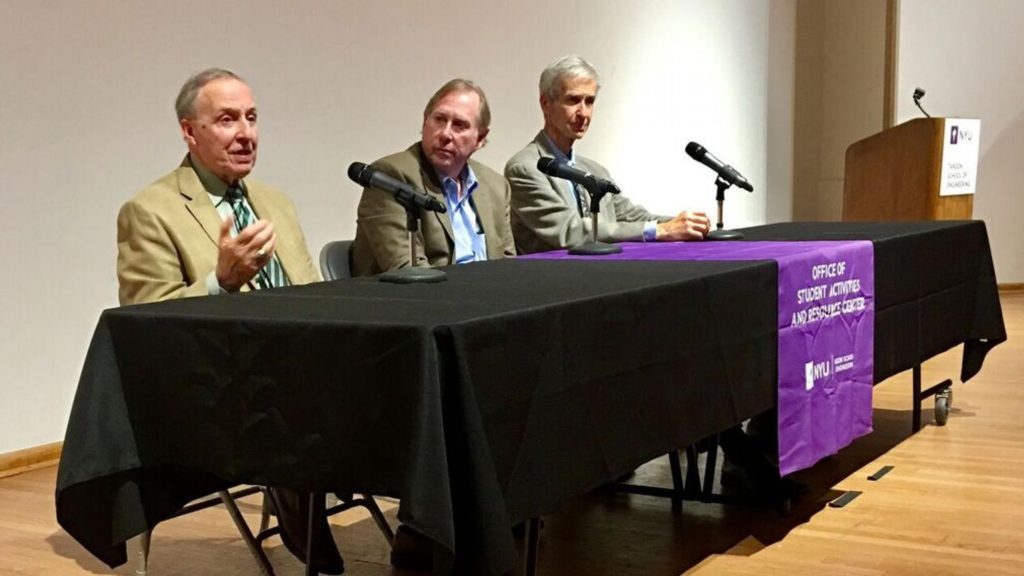 If you don't think of chemistry as an exciting enough topic for a movie, you probably don't know much about the life and work of Leo Baekeland, the Belgium-born scientist who produced Bakelite — the very first thermoset plastic — and in the process changed the world.
On November 29, the NYU Tandon community was treated to a showing of All Things Bakelite: The Age of Plastics, directed by filmmaker John Maher and executive-produced by Baekeland's great-grandson, Hugh Karraker. As a bonus, the two were on hand (along with chemist Louis Pilato) to field questions about the iconoclastic scientist; the revolutionary substance he created; and the process of filming a picture that would engage and entertain as it enlightened.
As the movie — which included historic reenactments, rare archival footage, interviews, and (surprisingly) humorous musical interludes — explained, Baekeland had his first scientific success when he invented Velox, the first photographic printing paper that could be developed in artificial light. He sold the invention to George Eastman (of Eastman-Kodak fame) in 1899, for a sum that would be equivalent to tens of millions of dollars today. Not content to rest on his laurels, however, he continued to innovate, and in 1907, while trying to find a sturdy, heat-resistant substitute for shellac, Baekeland produced a synthetic substance he called Bakelite. Soft enough initially to be molded into any shape (and then exceptionally durable as a thermosetting material by using specific degrees of heat and pressure), Bakelite turned out to be quick, easy, and inexpensive to work with, and soon manufacturers were using it to make radio casings, car parts, jewelry, and a plethora of other consumer goods.
Before and after the film, attendees could browse a display of Bakelite related artifacts and family heirlooms Karraker had brought with him. When asked during the Q&A whether as a child he appreciated the value of these objects, Karraker said, although his mother highly revered the genius of her grandfather, the family generally considered Bakelite junk jewelry. (Today, however, vintage Bakelite is wildly popular with collectors and can command high prices.)
The invention of Bakelite ushered in the era of modern plastics, and Karraker acknowledged that some viewers might not consider that a good thing, given the environmental concerns that have arisen in more recent decades. "We're soiling the material's reputation with our overconsumption and our neglect of its afterlife," he explained. "But as you hear from one of the research chemists we interviewed on-camera for the film, it isn't the failings of plastic that got us into our current situation; it's our own human failings. Plastic is, at the same time, both the finest and the worst expression of mankind's capabilities."
That complexity is, in part, what drew Maher, who has made almost two-dozen other independent documentaries, to the topic. "I think of it this way," he said. "Bakelite is an example of a long-chain polymer, requiring several small molecules to bind together. Similarly, any film is the result of a long chain of ideas, binding together to form a coherent whole."
NYU Tandon students were a natural audience for All Things Bakelite, the two asserted, given the school's venerable history as a center for polymer research. (In fact, Herbert Morawetz, the revered late director of the Polymer Research Institute here, worked as a chemist at the Bakelite Company upon first arriving in the U.S. in 1945.) "We especially want to expose students of chemical engineering, materials science, and similar fields to the work of my great-grandfather," Karraker elaborated. "I hope his persistence, resilience, willingness to take risks, and ability to think outside the box will be inspiring to them as they pursue their own careers." (Art and Design students, he added, might find similar inspiration after learning about how the then-revolutionary material influenced the way things looked.)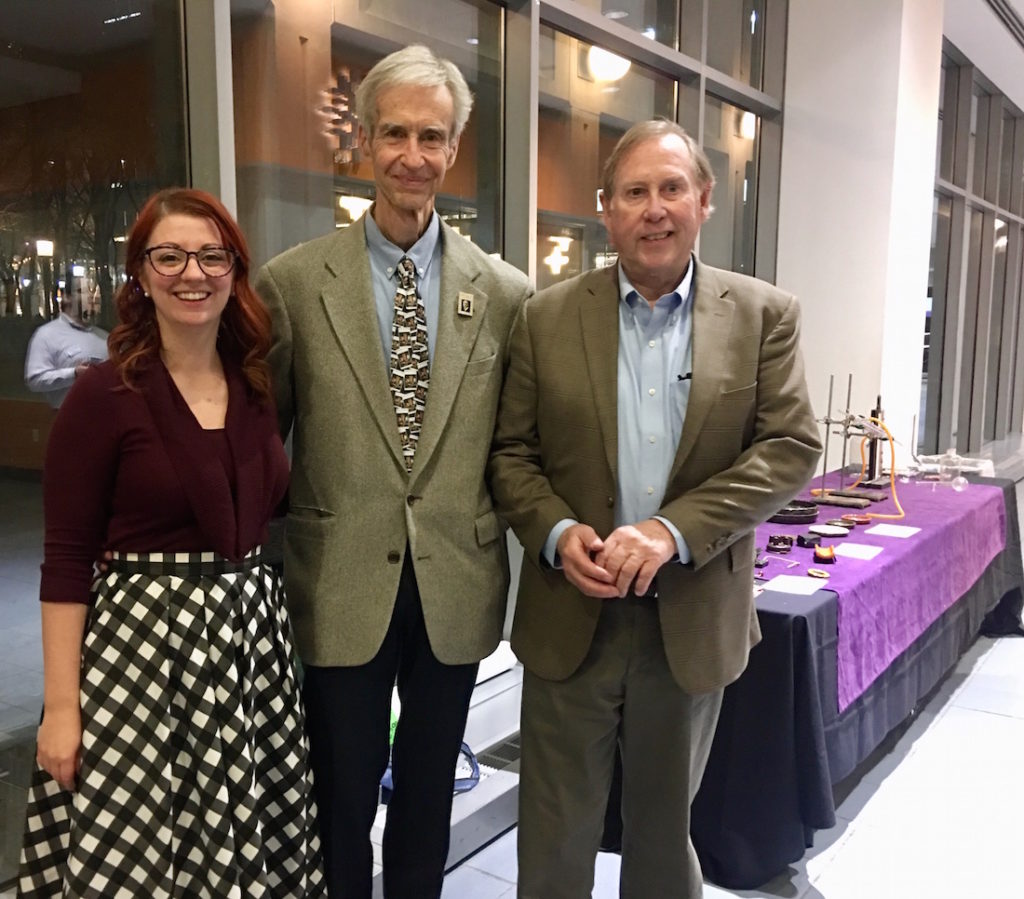 Brittney Anne Bahlman, Tandon's Director of Student Affairs and Student Activities, who arranged the event, agreed that the story of Bakelite was an inspiring one. "In the film, a research chemist says that Leo Baekeland leaned against a wall experienced by earlier chemists and ended up discovering a doorway no one had ever found before," she said. "That's exactly what we wish for our students today."