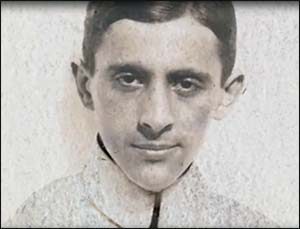 In the spring of 2016, a remarkable piece of history was brought to our attention by the daughter of a chemist who worked for Leo Baekeland beginning in 1910; and thereafter with the General Bakelite Company and the Bakelite Corporation.
The chemist's daughter, Nancy Byck Welch located Hugh Karraker, great grandson of Leo Baekeland and Executive Producer of "All Things Bakelite" through a Bakelite jewelry designer and Costume Jewelry Collectors International.
My Father and "Dr. Baekeland"
Nancy told Hugh, in 1910, "Dr. Baekeland" needed another chemist in his burgeoning Bakelite enterprise located in a barn at Snug Rock. He scouted the Yonkers High School and after a series of tests chose seventeen year old, Larry Byck.
While working at Snug Rock and later at the General Bakelite Co. plant in Perth Amboy, New Jersey, Larry was encouraged by Leo to earn a degree from Columbia University School of Chemical Engineering.
The Embed Art Company
At Perth Amboy, a small division of the General Bakelite Company was molding Bakelite (phenolic resin) into household objects. Larry, working as a chemist in the research and development division (R & D), responded to his artistic talents by embedding artwork, photographs, lettering, etc. into the material creating pendants and paperweights. He also found that by dipping Bakelite beads into multiple synthetic coatings, he created what appeared to be natural pearls. These creations were sold under the name, Embed Art.
After the business folded in the mid '20s, Larry found other creative outlets in photography, gardening, music and bringing up a son and daughter. In 1956, Larry passed away while still working for the Bakelite Division of Union Carbide Corporation at Bound Brook, New Jersey. Nancy possesses a varied collection of her father's creations.
It is interesting to note that beyond his preference for using the versatile material for practical purposes, Leo also fostered the use of Bakelite for art and decoration. It's clear Leo's admiration for Larry gave him this opportunity.

In the videos, you'll hear how Larry and Leo had a lot in common and how Nancy's memories help bring both men to life.
Nancy visits Dr. Baekeland in Florida
As a young girl, Nancy and her family visited "The Anchorage", Leo's home in Coconut Grove, Florida. "The Anchorage" is preserved as a home today, but three contemporary houses fill the remainder of the property.
Director, John Maher and Editor, Craig Mikhitarian have created a fitting tribute to Lawrence "Larry" Byck for Nancy Byck Welch and her family.