112 years ago, on December 7, 1909, Leo Baekeland was awarded the patents for Bakelite and the processes for its manufacture.
VIEW ORIGINAL PATENT
In the patent infringement cases he was later to confront, he was equally frustrated and invigorated. And, as with his discovery process, his perseverance kept him on a forward trajectory. By appointment of President Woodrow Wilson, Leo served on the national committee to improve the patent system.
To honor him on this day, we offer you the opportunity to win a piece of vintage Bakelite by playing the Bakelite Quiz.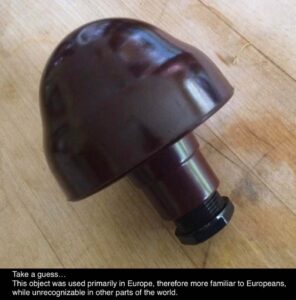 Our
September Newsletter
introduced The Bakelite Quiz. We received some good guesses on an obscure object. If you missed it in our
latest Newsletter
, here's another opportunity to win some cool Bakelite items pictured below. Email your answer to
[email protected]
. Three winners with the correct answer will be chosen at random in two weeks, and be notified via email. The identity of the mystery object will be revealed in our follow up post. Click on picture for a clue.

Our thanks to Karel Julien Cole of Ghent, Belgium who gave this object to Hugh. Karel is a professional photographer, collector of Bakelite and an authority on Leo Baekeland.
Follow, like and share our website link
allthingsbakelite.com
on your socials, adding
#bakelitequiz
. Bonus prizes will be offered to three additional winners chosen at random who email us a screen shot of their social media post.
Thank you for playing and good luck!