DVD SPECIAL!
2 disc DVD box set for only $15.00 USD
WHILE SUPPLIES LAST!
All Things Bakelite: The Age of Plastic tells the story of the first totally synthetic material and its inventor Leo Hendrik Baekeland. It touches on the double-edged sword of modern plastics and ends with an optimistic view.
The SPECIAL set includes:
DISC 1: 59 minute full-length version and 21 minute version for educational purposes.
DISC 2: 31 minutes of additional interviews.
Please note: The 59 and 21 minute films are available for home use and private showings only.
All Things Bakelite: The Age of Plastic
Documentary film disc 1 & 2
(click image for larger view/details)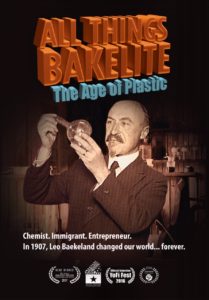 $15.00 includes shipping in the Continental US

For worldwide shipping we will email a separate invoice also payable through PayPal. Product is shipped via USPS.