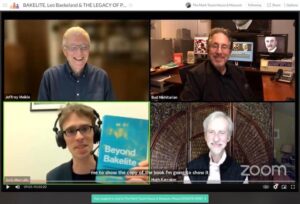 Our deepest gratitude to MTH&M program host Jennifer La Rue, organizers Jacques Lamarre and John Maher; and to technician Frances Burkham. Many thanks to panelists Joris Mercelis, Bud Mikhitarian, Hugh Karraker and moderator, Jeffrey Meikle for creating such a thoroughly engaging event.
Watch the broadcast
, which includes open captioning.
Hugh Karraker's cousin, Roberta commented, "Wonderful! So interesting to hear all the different angles that people are pursuing in relation to LHB and Bakelite; and that there are so many people interested in learning more about LHB! It was especially fun to hear Joris talk." (He has a true Flemish accent.)
Visit the
MTH&M website
for information on tours, upcoming events and programs.