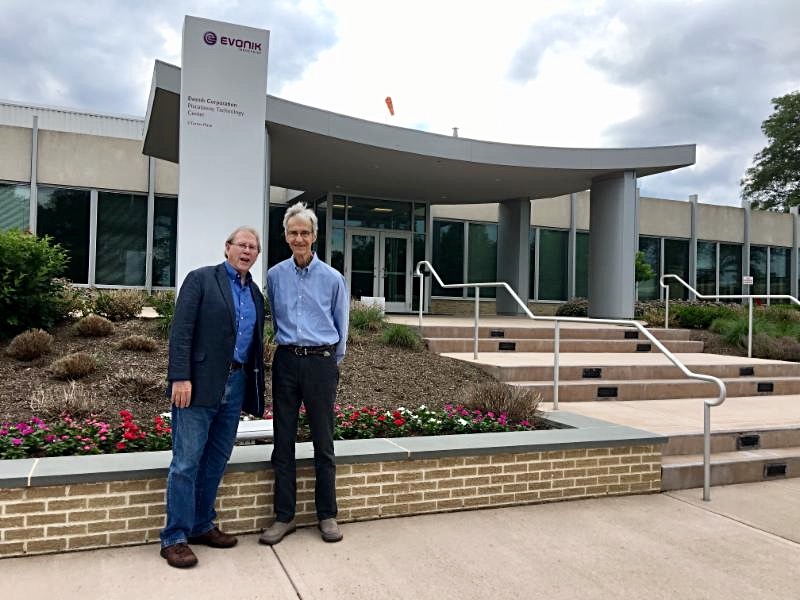 On June 7th, Dr. Louis Pilato, appearing in our film, organized a screening during the monthly meeting of the New Jersey Chapter of SAMPE (Society for the Advancement of Material and Process Engineering). The event was held at Evonik Industries Applied Technology Center in Piscataway, New Jersey.
After the meeting, a cold buffet dinner was available for members of SAMPE, several Evonik employees and invited guests.
Dr. Burk Wagner, appearing in the film, was accompanied by Nancy Byck Welch, daughter of Larry Byck, Baekeland's chemist from 1910 to 1957. She brought some of her father's Embed Art Bakelite samples to display along with Hugh's collection on a table in the back of the room.
Nancy appears in three short videos available on our website, www.allthingsbakelite.com.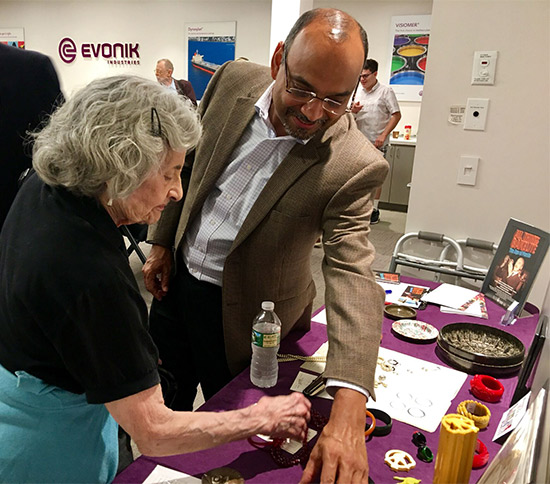 The audience was enthralled by the film and asked many pointed questions in the Q&A afterwards. Maybe because Louis had brought his wife, four sons, their wives, a friend and a grand daughter, the feeling of the whole audience was of one large family. Many conversations were stimulated by the film. Several people talked about future opportunities to show the film at local schools.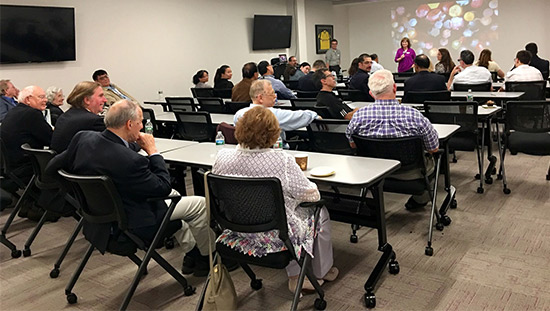 Many thanks to Dr. Louis Pilato for organizing the event. Special thanks to Scientist Joe Abrantes from Evonik for his hospitality and his helpful preparation beforehand. Special thanks to Applications Manager, Cray Valley and NJ SAMPE Treasurer Megan Casey for handling the details. Thank you to Advance Engineering Manager, Gentex Corporation's Russ Caspe, PhD, for stepping in for Business Director at Evonik, Borys Schafran, as MC. Thanks to Evonik's A/V Technician, Ken Howe, who made sure the projection system ran smoothly.
Team All Things Bakelite felt the event was a tremendous success and we look forward to showing our film at other pairings of meetings at industry facilities.