Hugh presents the film in Belgium – Ghent University and the Helvoet Rubber & Plastic Technologies in Lommel, Belgium and visits Vienna, Austria.
On October 8th, as part of the 200th Anniversary of their founding, Ghent University. Leo Baekeland's alma mater, the long and the short versions of our film were shown respectively in the Engineering Department and in the new public library, De Krook.
Hugh sends his heartfelt thanks to Willem De Vos, former President of the Society of Plastics Engineers, for bringing our film to the University. Special thanks go to Professors Filip Du Prez and Ludwig Cardon and to Marijke De Keyser and Willem Van De Steene for organizing the screenings and for taking such good care of Hugh.
Many University professors and students as well as new and old friends from Belgium and the Netherlands were very pleased with our film.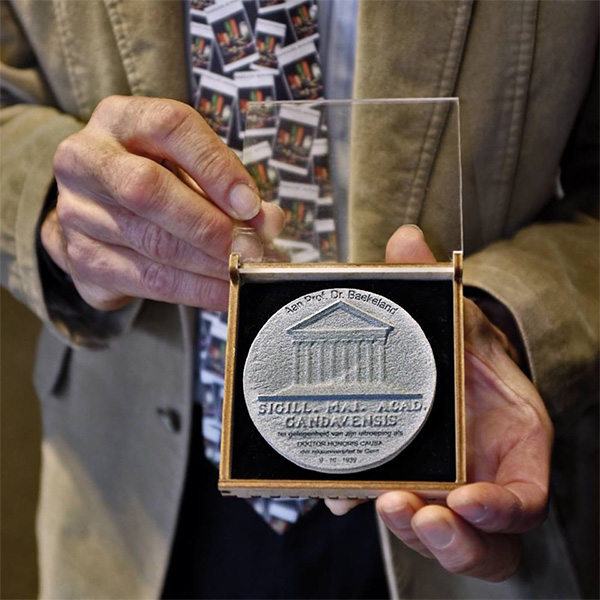 ---
Helvoet Rubber & Plastic Technologies in Lommel, Belgium
The day after the U Ghent screening, Eric Germeys, Sr. Account Manager at Helvoet Rubber & Plastic Technologies drove Hugh to his facility in Lommel, Belgium for a tour and a screening of the 21-minute film for 40 employees.
Hugh thanks Eric and his colleagues for a thoroughly satisfying experience at their molding plant. Hugh saw first hand the making of phenolic resin impellers and transmission parts for use in German and Japanese made cars.
The local press sent photographers and a journalist to cover the entire event.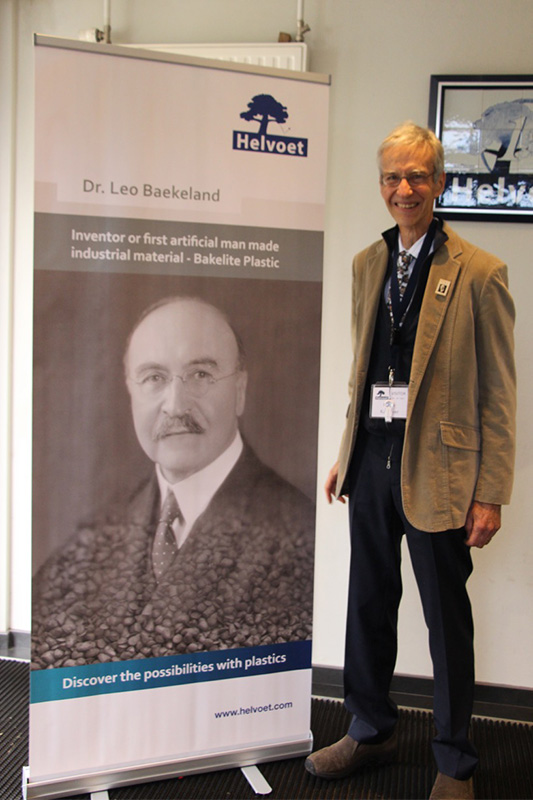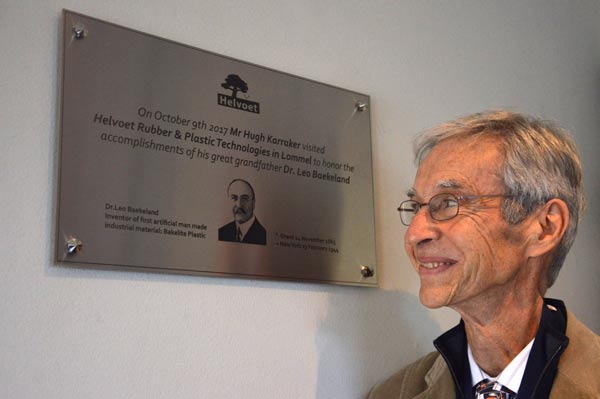 ---
Visit with Katarina & Sophie Posch in Vienna, Austria
At the end of the day, Eric hired a car to drive Hugh to his hotel in Brussels to spend the night before the next leg of his journey… Vienna
Hugh made a one-day visit to Katarina Posch in Vienna, Austria. Katarina, who appears in our film, taught History of Design at Pratt Institute. Two years ago she suffered a stroke and has been living in a rehabilitation facility in her hometown of Vienna. Hugh is happy to report she's making progress – operates a wheel chair with her head and a word processor with her eye. Writing two projects, Katarina is truly inspiring.
Hugh sends a warm thank you to Sophie Posch, Katarina's sister, who assisted with Hugh's visit and arranged for his stay in the fabulous old-world Hotel Schloss am Wilhelminenberg. Hugh and Team All Things Bakelite: The Age of Plastic wishes Katarina continuing success.